Grandview Elementary School
HOME OF THE MUSTANGS
Grandview Elementary, a 2005 Michigan Exemplary Blue Ribbon Elementary School, is one of two elementary schools in the Clarenceville School District. Grandview serves Preschool through 5th grade students from the communities of Livonia, Farmington Hills, and Redford. The enrollment at Grandview is approximately 400 students. The learning community at Grandview Elementary strives to develop and educate to the WHOLE child and empowering each student to follow our PRIDE model which is to be polite, respectful, have integrity, be disciplined, and show effort both academically and socially. Our classrooms are clustered into grade-level teams, and each team works closely to coordinate the teaching of the curriculum and to evaluate the progress of our students. Grade-level teams collaborate with Art, Music, Physical Education, Library, Info. Tech, and a dedicated support staff to provide rich and dynamic learning opportunities for all students. Grandview is committed to continuous improvement, and we pro-actively partner with our families and community to develop each student's potential.

To learn more about Grandview and its staff.
"Be the Best YOU at Grandview!!"
Bus Schedule
Breakfast and Lunch Information
Supply List
Here is the 2021-2022 Supply list. Note these are suggested supplies to have for your child whether we are virtual or back in school. If you need help with supplies, be sure to reach out to Grandview.
Parent Resource Webpage
Attached is our parent resource page filled with rich resources on literacy, technology, RULER and Social Emotional Learning and so much more. This site is for our parents, so enjoy all that the site has for you to support you, the parents.
GPS (Grandview Parent Support) Website
Clarenceville School District Calendar
Clarenceville Early Release Schedule
STARTING THIS YEAR...Every Wednesday of the 2021-2022 school year, the clarenceville school district will have an early release Wednesday. both elementary schools, grandview and botsford, will have a 2:10 dismissal.

On-Line Enrollment
The enrollment process is now 100% on-line. To process the paperwork, you need to log into your child's parent portal site. The parent portal site can be accessed from the main page of the Clarenceville website by clicking on the blue on-line registration button or you can click the following link https://mistar.oakland.k12.mi.us/clarenceville/parentportal/. You will need your PIN number and password. If you do not know it, please contact the Grandview main office at 248-919-0404. For this process, you will be asked and prompted to go through the annual registration forms and approve the forms for this year, as prompted. This process has to be repeated each year.
If you are new to Grandview, you need to click on the pre-enrollment button (has a pencil) located on the Clarenceville home page.
NOTE: Trying to enroll on a phone can run into obstacles. Please try and enroll on a computer.
Grandview Front Page Images
important grandview school events
august
30: First Day of School for students & staff - (½ day -- 8:30-11:30)
31: First full day of school - Student hours are 8:30-3:40
september
1: Early Release - 2:10 dismissal
3: No School for Staff and Students
6: No School for Staff and Students
7: Tuesday Night Night Starts -- Share it out for me
8: Early Release - 2:10 dismissal
FOG mtg @ 6:00 pm
9: Board of Edu Mtg - 6 pm
15: Early Release - 2:10 dismissal
17: Constitution Day
21: Virtual Curriculum Night (K-5) @ 6 pm
22: Early Release - 2:10 dismissal
23: Board of Edu Mtg - 6:30 pm
24: GV Fall Fundraiser Starts
29: Early Release - 2:10 dismissal
october
6: Early Release - DI - IM - 5:00 dismissal
FOG mtg @ 6pm
Count Day
8: Board of Edu Mtg - 6:30 pm
11: Fall Fundraiser Sale Ends
13: Early Release - 2:10 dismissal
14: Board of Edu Mtg - 6:30 pm
20: Early Release - DI - GLM - 4:00 dismissal
21: Fall Picture Day
22: Fall Festival
27: Early Release - 2:10 dismissal
28: Board of Edu Mtg - 6:30 pm

Grandview School News
08/05/2021
School Vaccinations Offered by Oakland County Health Dept.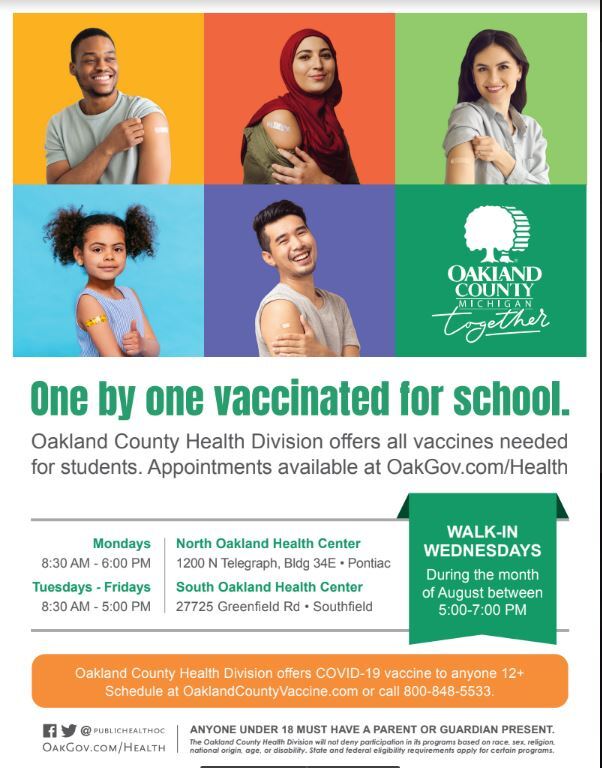 Oakland County Health Division offers all vaccines needed for students for school including those needed for Kindergarten and the COVID-19 vaccine. During the month of August, they are offering "Walk-In Wednesdays" between 5:00pm and 7:00pm.  Appointments also available at OakGov.com/Health.  Please see the flyer for more details.
May 13, 2021
2021 Holiday Craft Show is Coming!
Click the image below to learn more about the Holiday Craft Show in November.