PARENT MESSAGE - May 9, 2020
Good afternoon Clarenceville Families,
I hope this communication finds you all healthy and in as good of spirits as you can be during this unprecedented time. We have just completed the third week of our Continuity of Learning Plan and I wanted to check in on how things are going for you and your children. Please help us support you by answering this short survey. Your feedback is very important to us. Remember, if you need to communicate with an administrator you can always email us at clvhelp@clarencevilleschools.org
Here is the link to the Parent Survey: https://www.surveymonkey.com/r/K6PTL8T
Thank you all for your continued support as we work together to do our very best for all of our students. #CSD_AllMeansAll is our mission and we will continue to strive to meet it.
Be well,
Paul K. Shepich
Take some time to watch the recording of the Clarenceville parent town hall event
Paul Shepich and Renee Valentine join community parents and Clarenceville staff in discussing what is ahead for the families and students in our district. See a recorinding of the Town Hall here or click the image below.
Parent Message - April 15, 2020
Good evening Clarenceville Families,
This communication contains four important items:
1. School is NOT over! School buildings are closed however, the state of Michigan expects/ requires that students will continue to have learning opportunities. These learning opportunities will include new material that would have been taught in a classroom. Now it will be taught through online platforms such as Google Classroom and SeeSaw. Should any family have difficulty with connectivity or having a Chromebook/laptop the school district stands ready to help solve these challenges. Learning packets is another way new learning can be delivered if online is not an option.
2. Click here to find our Parent/Student Guidance Document explaining our Continuity of Learning Plan that the state requires all school districts to write and implement through the end of this school year.
3. Here is the link to a Zoom Parent Town Hall meeting that will be held on Thursday night at 6:00 pm.
4. We are scheduling another Chromebook pickup date. It will be this Friday, April 17th. I am asking all parents who need a Chromebook or a second Chromebook to contact their building principal to let them know so we can have enough of them prepared for pickup. The first session will be for families who have not received a Chromebook from the district yet. This pickup will take place from 9 am to 11 am. The second pickup time on Friday will be from 3:30 pm to 5:30 pm. This pickup site is for those families who need more than one Chromebook because they have children attending different grade levels or schools in the district. The pickup site will be at the Clarenceville Middle School in the south parking lot (the stadium lot). You will be asked to sign a checkout document. This will be a "drive-up" service and you will not have to get out of your vehicle. The Town Hall meeting will focus on the Parent & Student Guide document which is part of our Continuity of Learning Plan.
We will do our best to answer your questions during the Town Hall meeting. The meeting will be recorded and the link will be posted on our district website so that other parents who could not attend the Town Hall meeting can watch it at a later date. This way parents can hear and see what questions were asked and answered. Should they have other questions after viewing the video they can contact us by using the help@clarencevilleschools.org email address.
Sincerely,
Paul Shepich, Superintendent of Schools
Parent Message - April 3, 2020
Good afternoon Clarenceville Families and Staff,
Yesterday, the Governor issued an Executive Order ending "face to face" instruction in all Michigan schools for the remainder of this school year. The Executive Order is seventeen pages in length. It gives very specific instructions for what all school districts must do for the remainder of the school year to continue giving our students opportunities to continue their learning to the end of this school year.
At this time, my administrative team is reviewing her Executive Order. We will be creating a Continuous Learning Plan for our school district's teachers and students to follow. Once our plan is ready to be implemented it will be communicated to all teachers, students, and parents. Until such time, students should continue to follow what their teachers are currently providing.
This is a challenging and difficult time for all of us as we endeavor to stay healthy, continue to stay home in order to stay safe while trying to keep learning a priority in our students' lives. If there was ever a time where we need one another this would be that time. Each of us has our own personal challenges to overcome; we need to be there for one another. The Clarenceville School District is making every effort to reach out to you in hopes you will share with us how we can better support you through this unprecedented time.
School, the joy of learning something new, has always been the bedrock of our lives. It is an essential in so many ways, now more than ever. Schools are not just about academics. Schools are so much more to our school community and it is during times like these that we can demonstrate the importance schools have in our lives; the concept of school is not found in buildings, school is about the people who fill them. School is a place for connection with one another as we strive to make things better for other people.
Our Continuous Learning Plan, once approved by the ISD and the Michigan Department of Education will not only be about continuing learning but more importantly it will be about keeping our connection to one another. I hope you will support your children and us in this endeavor.
I will be back in touch when we are ready to share our plan with all of you. Until then, please be safe, follow the social distancing and stay home order as best you can to keep yourself and others healthy. Your children should not be out and about playing with groups of kids on playgrounds, neighborhoods, basketball courts or football fields at this time. The more we follow the stay home order the sooner we can get back to our normal lives. It is a difficult time but I know as a community filled with Trojan Pride we can and will do what we need to do to make the best of a difficult situation so one day sooner rather than later we can all be back together as a school community.
Be well,
Paul K. Shepich, Superintendent
PARENT MESSAGE - April 1, 2020
Dear Clarenceville Families,
Please see the updated Food Distribution Schedule. The changes include:
First stop will be 8:30 am vs. 8:00 am
Stops are shorter 6 or 7 minutes vs. 10 minutes.
The "old" route 1 will be run immediately after route 2
Other change is in pick up time at high school. Going to end it at noon vs. 1:00 p.m.
ALSO, please take a moment to fill out the Parent Survey at this link, one survey per family is needed please.
Thank you and stay well!
Parent Message - March 30, 2020
Dear Clarenceville Families,
While we miss seeing and working with our students every day, I am so proud of our educators and all they are doing for all of our students. None of this is perfect, but I know that all of us, parents, students, and staff, are all doing our best under very trying circumstances. Thanks to all of you for your work and support as we all pull together.
To help us better support you I am asking you to take a moment to complete the attached survey by opening the link and submitting a completed survey. This information will help us better plan for the weeks to come.
My biggest wish is for all of you to be safe, be well, and do what it takes to stop the spread of this terrible virus. We are here to support you in any way we can. Please use our help@clarencevilleschools.org email to let us know how we may be able to support you and your family in this difficult time. My administrative team continues to work on the planning necessary to keep learning and supporting all of our families during this closure period. Here is the link to the survey:
https://www.surveymonkey.com/r/CvilleParentSurvey
Sincerely,
Paul K. Shepich - Superintendent
PARENT Message - March 27, 2020
Click here for the message from Superintendent, Paul Shepich.
PARENT Message - March 22, 2020
Click here for the message from Superintendent, Paul Shepich.
Message Regarding Food Service During Interruption, March 15, 2020.
Good afternoon Clarenceville Families and Staff,
We understand that the closing of schools may result in hardship for many of our families who are in need of food assistance. Working with our food service partner, Southwest Food Excellence, and our transportation service provider, Trinity Transportation, we have a plan in place which I am sharing in the attached document. The Clarenceville School District is committed to supporting our students and families to the best of our abilities during the closure period. Click the link below for complete information.
Sincerely,
Paul K. Shepich, Superintendent
Food Service Distribution Plan
Need additional food for your family?
CARES of Farmington Hills, 27835 Shiawassee Road
Tues., Wed., Friday, 12:30 p.m. to 2:30 p.m.
Phone: 248-882-7800
● Food orders can be placed between 10-3 M-F
● You will request pickup location that works best for you with location and time
● Food boxes will be packed and labeled with your name for quick pick-up to limit exposure to others
Message for Clarenceville Parents on Saturday, March 14, 2020.
Clarenceville Parents,
When checking out Chromebooks, we ask that you only check them out if you do not have a device at home. And, we are limiting 1 per family so as to serve all of our families in need.
Remember, pick up will be on Tuesday, March 17 during the allotted time.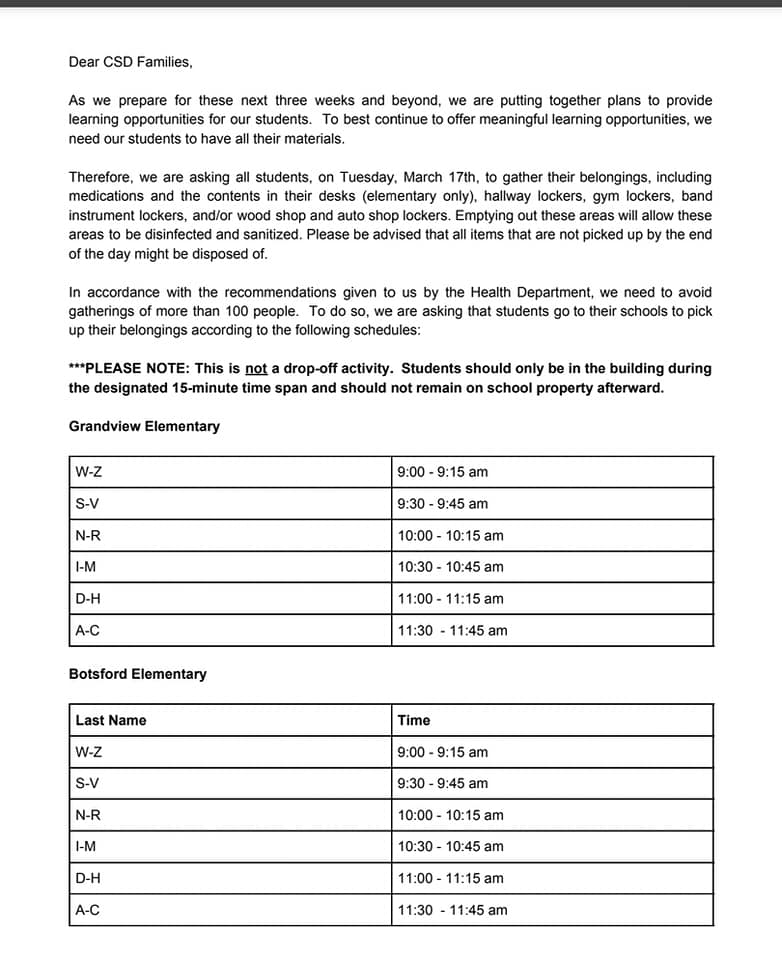 Message sent to Clarenceville Parents on Friday, March 13, 2020.
Good evening Clarenceville Families,
These are challenging times for the Clarenceville School District, our state, our country, and our world. We are complying with the Governor's directive to close all schools to students as of March 16, 2020. The Clarenceville School District will resume school on Monday, April 6, 2020 after our Spring Break.
The closure is to mitigate the spread of the Coronavirus. We are living in a time of rapidly changing information. We are committed to sending regular communication and we appreciate your continued attention to these email messages.
Virtual Learning for CSD Students:
Our teachers are planning virtual learning opportunities along with other methodologies for those students who may not have home connectivity. We know nothing can replace effective classroom instruction; however, we are doing our best to keep our students engaged in their learning during this mandated closure.
Should your student need a Chromebook and have home connectivity please email your building principal or call the building's main office to request one. A parent must be the person to sign out the requested Chromebook.
Principal emails & Main Office Numbers:
Troy.Nelson@clarencevilleschools.org – High School Office Number: 248-919-0408
Alan.Kantor@clarencevilleschools.org – Middle School Office Number: 248-919-0406
Bryan.Decaire@clarencevilleschools.org – Botsford Elementary Office Number: 248-919-0402
Melissa.Carruth@clarencevilleschools.org – Grandview Elementary Office Number: 248-919-0404
I will be sending out another email communication with a schedule of when each student and parent may access your school building to pick up a Chromebook if requested, medication, and clean out student lockers to take textbooks and materials home.
Sincerely,
Paul K. Shepich, Superintendent
Message sent to
Clarenceville

Parents on Friday, March 13, 2020.

The Clarenceville School District will be closed on Friday, March 13, 2020 for all students and staff. The district will be closed on Monday, March 16 for students. All staff should report for Professional Learning to prepare to distance learning on Monday, March 16.