Clarenceville High School
Supported by an enthusiastic faculty, dedicated staff, committed families, and a proud community, we create a safe and caring environment that fosters deep and enduring personal relationships.
Within this supportive atmosphere, our students explore their talents and interests, set individual and group goals, and pursue courageous endeavors in all areas of their lives. Cooperative relationships among families, businesses, organizations, community members, and the school provide strong ties which enhance learning beyond the walls of the school.

Learn More
GLOWCOMING CONTRACT
Glowcoming Dance - Saturday, March 10 - 7:30 pm -10:30 pm

/downloads/high_school/glowcoming_contract_2018_1.pdf
High School News

View Archives
April 20, 2018
CHS Student Among Winners of Oakland County Art Contest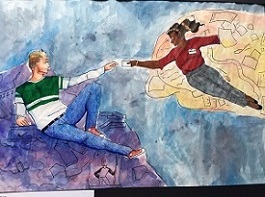 Lavendar Calhoun, 11th grade student – artist at Clarenceville High School, is among the winners of the Oakland County Treasurer's 7th Annual Literacy Arts Contest. Lavender's mixed media piece titled "The Creation of Adam's Credit Card" will be displayed in the Oakland County Treasurer's Office for one year and included in an online art gallery on the Treasurer's website.
March 28, 2018
2018-19 School of Choice Enrollment
Clarenceville School District will be accepting applications beginning on April 3, and ending on August 29, 2018 at 4:00 p.m. for Unlimited Schools of Choice, Section 105 and 105C, K-12 for first semester the 2018 - 2019 school year. Applications will be available in the superintendent's office.
Questions regarding schools of choice may be directed to the superintendent's office at 248-919-0250.
Important Information for Parents of the Class of 2022

8th Grade Parent Orientation Class of 2022

FAQ Freshman Parent Orientation Spring 2018
Clarenceville High School Calendar