Grandview Elementary School
HOME OF THE MUSTANGS
Grandview Elementary, a 2005 Michigan Exemplary Blue Ribbon Elementary School, is one of two elementary schools in the Clarenceville School District. Grandview serves Preschool through 5th grade students from the communities of Livonia, Farmington Hills, and Redford. The enrollment at Grandview is approximately 450 students.

To learn more about Grandview and it's staff.
"Great Stories Begin at Grandview"
Grandview School News
February 21, 2017
Kindergarten Roundup March 28th & 29th!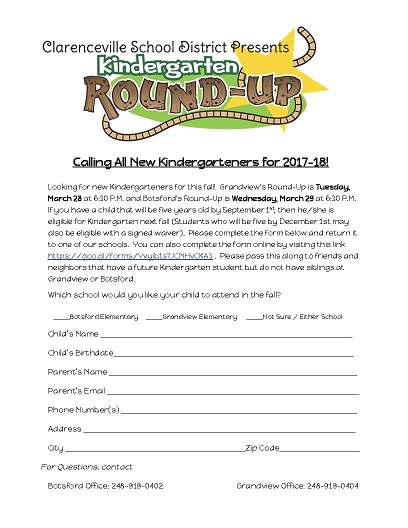 Clarenceville is hold it's Kindergarten Roundup for the 2017-18 school year on March 28th at Grandview Elementary, and March 29th at Botsford Elementary. Click above to see and complete the registration, or click here to register online.
08/31/2016
Internet Options for Low Income Families
As the school year begins, the Michigan Department of Education (MDE) encourages districts to share with parents internet options for low income families. Learning can occur

"Any Time, Any Place, Any Way, Any Pace," but to continue learning in the home, high speed reliable broadband is crucial. With more devices in the hands of students, districts have shifted away from traditional approaches to homework. According to the Federal Communications Commission (FCC),