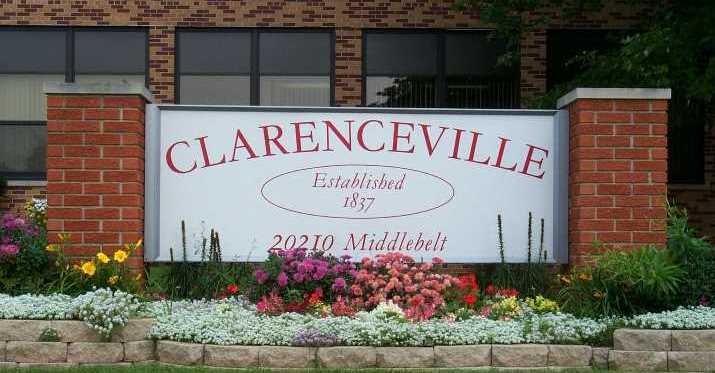 Welcome to Clarenceville School District
The mission of the Clarenceville School District is to provide individuals a variety of educational opportunities that enable them to become lifelong learners and productive members of a changing world.
Established 1837 the Clarenceville School District of Wayne and Oakland Counties is located at the southern edge of Oakland County and includes sections of Livonia, Farmington Hills, Redford and Southfield. It is comprised of 1,817 students in one high school, one middle school and two elementary schools. Our students are of a moderate to low SES. In the 2017-18 school year about 62% of our students were eligible for free or reduced lunch.
Our students are serviced by highly qualified certified teaching, counseling, special services, and administrative staff in full and part time positions. Other employees working in our school include paraeducators and support staff, including secretarial, food service, maintenance, and part-time aides.
All four of our buildings have achieved NCA/AdvancED Accreditation. In 2017, Clarenceville earned the NCA/AdvancED District Accreditation.
Vision
The vision of Clarenceville School District is that all students be empowered to face the challenges of the 21st century. We provide our students with an academic foundation designed to promote the skills necessary to be successful in an ever changing and global society: problem solving, effective communication, technical skills, critical and creative thought, an understanding and appreciation of diverse cultures and physical, social, and emotional wellness.
Supported by an enthusiastic faculty, dedicated staff, committed families, and a proud community, we create a safe and caring environment that fosters deep and enduring personal relationships. Within this supportive atmosphere, our students explore their talents and interests, set individual and group goals, and pursue courageous endeavors in all areas of their lives. Cooperative relationships among families, businesses, organizations, community members, and the school provide strong ties which enhance learning beyond the walls of the school
We value a culture of civility where all stakeholders are treated with fairness, are celebrated for their successes, and are respected for their contributions.
We prepare our students to live their lives with resilience, compassion, and above all integrity. As our students move through life we know that they are prepared to act knowledgably, lead thoughtfully, share generously, and contribute meaningfully.
Clarenceville School District Staff Believes:

All people have value, worth and dignity.
Everyone can learn.
All individuals are unique.
Learning is a life-long process.
Everyone can experience success.
Change is inevitable.
Cooperation leads to greater learning and productivity.
Continuous improvement comes from trying new ideas.
Clarenceville School District Board of Education Goals

The district will recognize and honor individual differences and cultural diversity.
The district will communicate and work with staff, parents and community members to develop and promote quality programs and services.
The district will place emphasis on and implement strategies to raise student achievement at all levels as measured by M-Step, PSAT, SAT and MME standardized testing and other district assessments.
The district will continue its work in NCA/AdvancED school improvement, with the goal of preparing all students to be successful as they move from home to school, grade to grade and school to career.
The district will support programs that challenge students to achieve at the highest possible academic level.
The district will continue to implement a plan for the on-going professional growth of all staff members.
The district will operate a balanced budget and remain financially sound while working to maintain the fund equity.
The district will improve the appearance and utility of all buildings as an on-going priority.