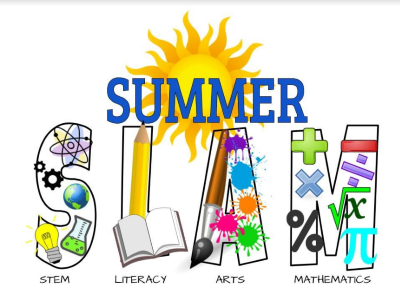 K-8 Summer Program
Welcome to the 2021 Clarenceville Summer Learning Program, or Summer S.L.A.M. S.L.A.M. is an acronym that stands for STEM, Literacy, Arts and Mathematics, but what it really means is that students are going to have fun while learning! This FREE program is for all Clarenceville rising Kindergarten-8th grade students.
Free for All Students
Held at each elementary and middle school.
In-Person
8 Week Program: June 21 - Aug 13
3 Days per Week: Tues/Wed/Thurs
3 Hours per Day: A.M. Times TBD
Breakfast & Lunch Provided
Transportation may be available if there is enough interest.
MORE SUMMER LEARNING - Check out this PADLET!
Scroll across the screen at the bottom of the image below to find your grade level and access the Summer Learning fun!
High School Program
credit recovery registration - DEADLINE IS May 21
Please click here to register for Credit Recovery.
Clarenceville High School Summer School 2021
Course offerings for the 2021 Summer School program will be held in two formats: either online through Plato/Edmentum or in-person with teacher-led instruction. Enrollment is open to all students in need of recovering credits. Completion of coursework and communication with teachers as scheduled is mandatory to earn credit for any courses enrolled in. Attendance will be monitored and recorded by teachers. Enrollment is limited to two courses per student for online with teacher instructed courses and unlimited for Plato/Edmentum courses. If desired, students can sign up for teacher instructed courses and Plato/Edmentum courses.
 June 21 - July 29
 Students can enroll in a maximum of 2 in-person courses
 Focus is for upperclassmen and those in need of recovering numerous credits
 FREE
 Classes Monday - Thursday (2 hours per course) Time TBD morning
 Course offerings will be determined by number of students registering
For more information contact your counselor at joelle.troszak@clarencevilleschools.org , Jennifer.weston@clarencevilleschools.org or Tracey Stevenson at Tracey.Stevenson@clarencevilleschools.org or call (249) 919-0408.